Eyal Ofer donates £10m to Tate Modern extension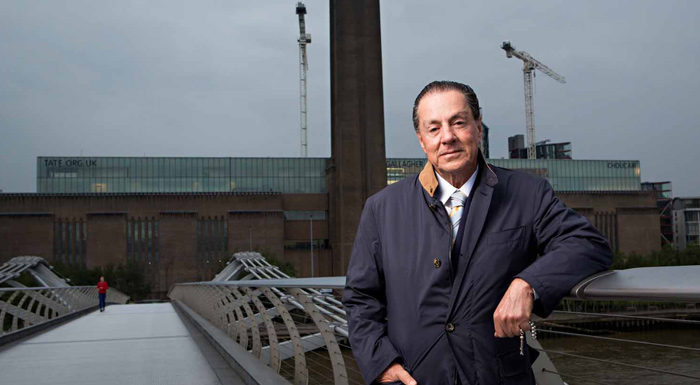 A billionaire shipowner has donated £10m towards the costs of Tate Modern's new extension, in one of the largest gifts made to the London gallery of contemporary art.
Eyal Ofer, chairman of London-based Zodiac Maritime Agencies, said the donation made through his family foundation would enable "an iconic institution to enhance the experience and accessibility of contemporary art".
The £215m development, part of which – The Tanks – opened last year, will increase the capacity of Tate Modern by 60 per cent when it is completed by 2016. The gift means the project is 15 per cent short of its total funding.
It is exciting to see such outstanding philanthropy continuing from one generation to the next
The donation is the latest in a number of significant contributions made by the Ofer family. Eyal's late father, Sammy Ofer, who founded the family business and served in the Royal Navy during the second world war, gave £20m to the National Maritime Museum in 2008 to support its new £35m wing, and funded the restoration of the Cutty Sark in Greenwich.
Sir Nicholas Serota, Tate director, said the gift would help make Tate Modern "a truly 21st century museum".
"It is exciting to see such outstanding philanthropy continuing from one generation to the next," he said.
Mr Ofer, a Monaco resident and modern art enthusiast who also controls Global Holdings, a real estate portfolio, will have Tate Modern's third-floor exhibition space named after him. Mr Ofer has also supported projects such as Gloriana, the royal barge constructed for the Queen's diamond jubilee.
Tate Modern is the most visited art gallery in the UK, attracting a record 5.3m visitors last year, 9 per cent up on 2011. Contributions to its expansion include £50m from the government, £7m from the Greater London Authority and the rest from private sources, including a £5m gift from the Wolfson Foundation. Other individual donors include the former BP chief Lord Browne, the media executive Elisabeth Murdoch and the banker John Studzinski.
Return to News listings